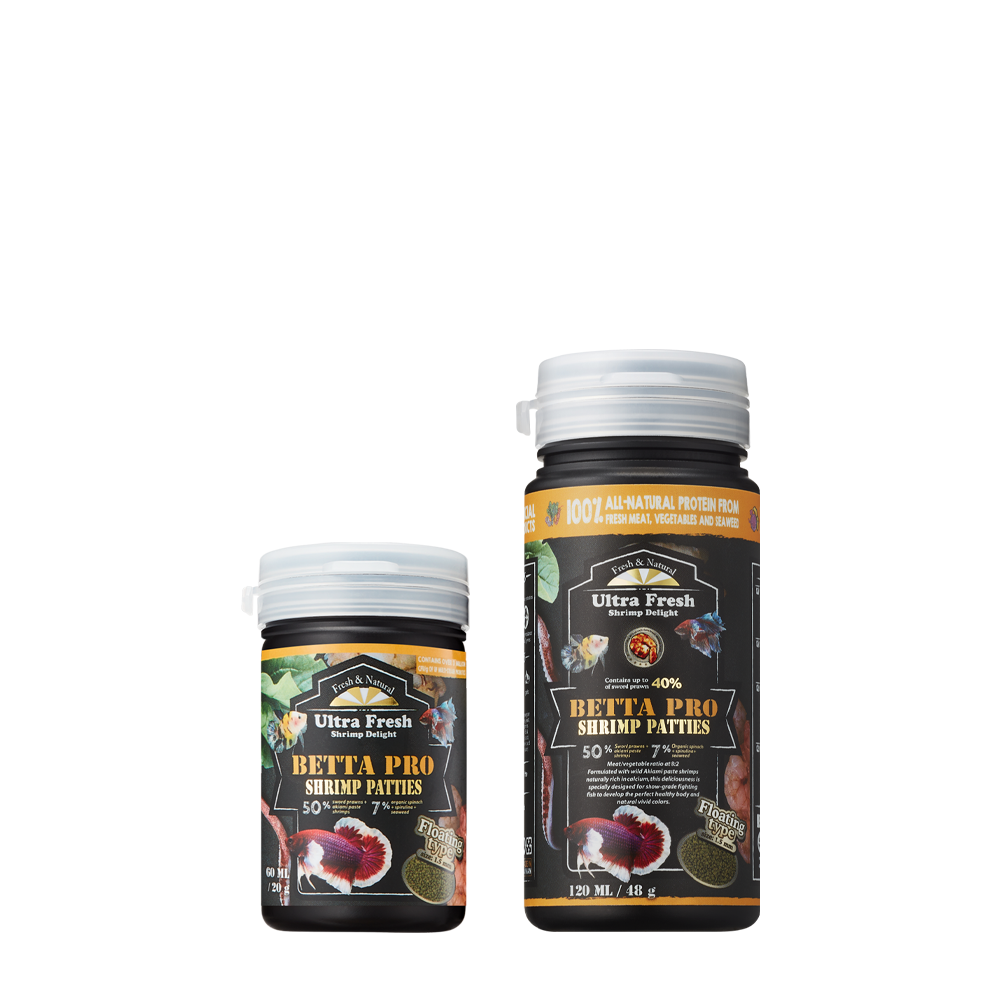 60ml/20g | 120ml/48g
Meat/vegetable ratio at 8:2
Formulated with wild Akiami paste shrimps naturally rich in calcium, this deliciousness is specially designed for show-grade fighting fish to develop the perfect healthy body and natural vivid colors.
BETTA PRO
shrimp patties
5.0 | 1 Review
100% All-natural protein from fresh meat, vegetables and seaweed
50% Sword prawns + akiami paste shrimps
7% Organic spinach + spirulina + seaweed
0% Additives, artificial colors or byproducts
Up to 50% fresh sword prawns + akiami paste shrimps = amazing palatability & high calcium boost
Blending together premium wild sword prawns and Akiami paste shrimps (up to 50% of total content), this formulation is abounds with natural calcium and energized with a wealth of carefully selected ingredients like organic spinach, fresh squid, fresh-pick garlic, natural spirulina and seaweed. It's sure to help those picky show-grade fighting fish to develop the perfect body and natural colors.
Rapidly softens in water for fast intake
We insist on 10 hours of low-temperature baking process to give your fish the best diet. This formulation quickly softens in water to allow speedy intake, leaving no residues to always keep the water clean. Original flavors and nutrients of the fresh ingredients are well preserved.
UF multi-strain probiotics facilitate auto-decomposition of excretion and residues to keep the water clean
All-new probiotics coating process ensures each gram contains at least over 3 million CFUs of UF multi-strain probiotics, which quickly help fish grow a healthy digestive flora. This allows for complete absorption of nutrients and facilitation of excretion, as well as faster decomposition of waste. What's more, it boosts the disease-fighting abilities of your fingerlings and reduces their susceptibility to intestinal inflammation.
Ganoderma polysaccharides, garlic and Vitamin B group added to boost immunity
Premium-quality immune-boost formula: rich in valuable nutrients such as Ganoderma polysaccharides, garlic, Australian spirulina, vitamin A, D3, C, E, B1, B2, B6, & B12), β-carotene, natural minerals, and trace elements to fortify your fish's immune system, boost metabolism, increase energy and reduce diseases.
Floating type
SIZE: 1.5mm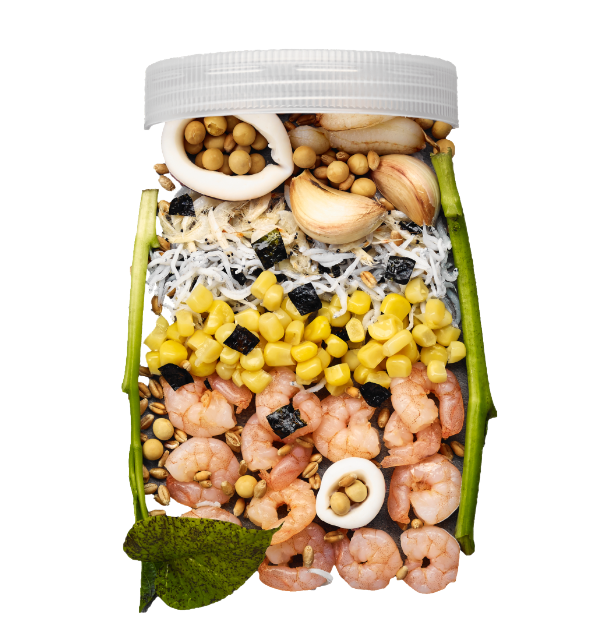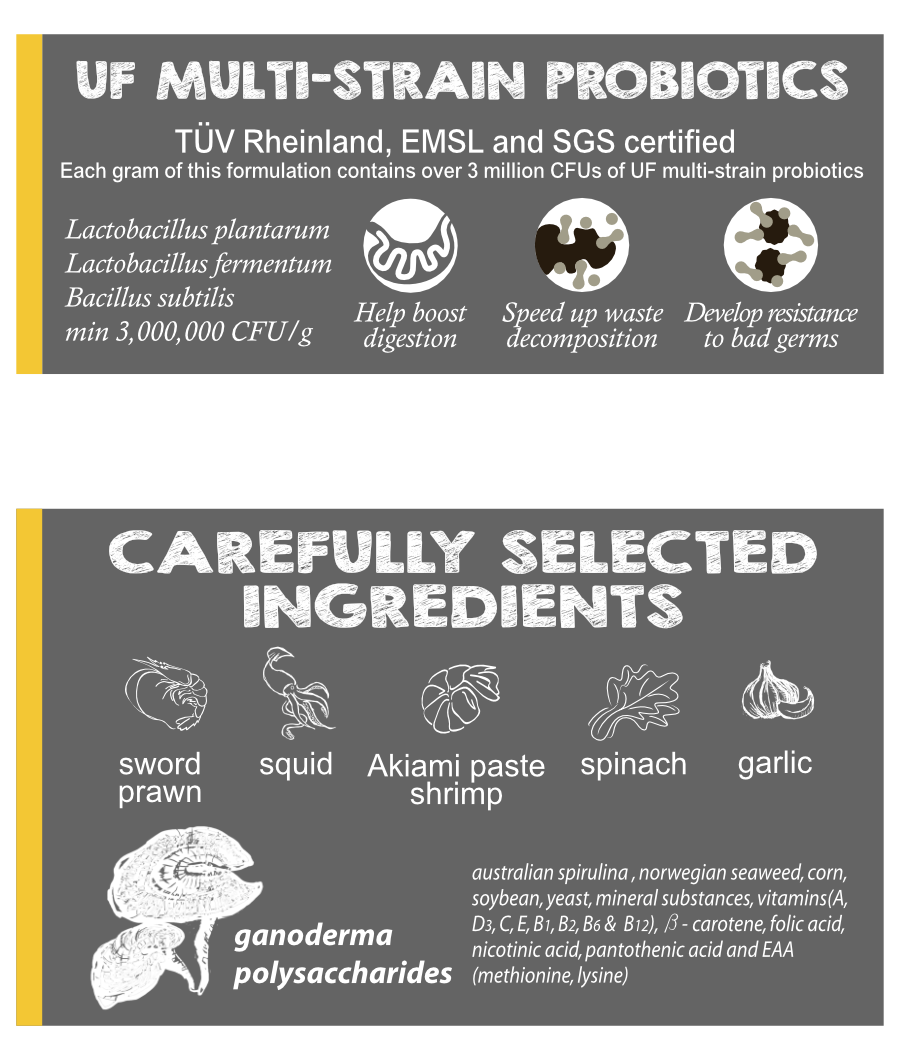 ANALYSIS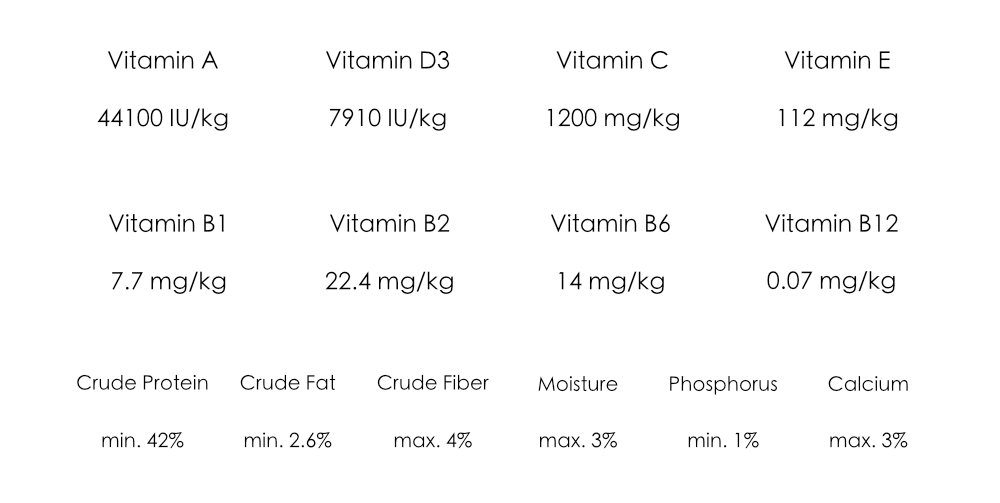 FEEDING
Feed 1-3 times per day; each time in amounts no more than can be consumed in 3 minutes.
1 PET PARENT HAS REVIEWED THIS RECIPE